When sentiment towards a market is resolutely negative, any positive news can more easily deliver a bounce as traders feel forced to shift positions.
A revival on Monday in China's property sector, which triggered a broad Asia rally, may attest to that narrative.
As the chart below from SentimenTrader shows, news articles about China recently hit their most negative on record amid concerns about the real estate sector and slowing overall economic growth.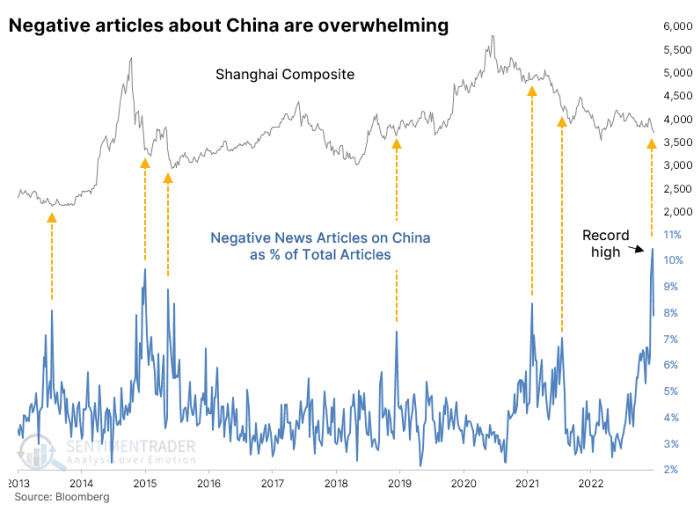 SentimenTrader searched Bloomberg's database of articles using this litany of investor doom:  weak, warning, risk, problem, struggle, worse, fall, gloom, disappoint, contagion, loss, negative, and slump. It then presents these as a percentage of total articles.
The negativity — which granted mostly comes from Western media, especially the U.S. — has come off its peak but still sits at a decade high.
"It's hard to be optimistic on any market when it is nigh on impossible to read anything with a positive spin. That's definitely the case for Chinese stocks in recent weeks, with a level of pervasive negativity perhaps never seen before," said Jason Goepfert, chief research officer at SentimenTrader.
And so cue news from China over the weekend that more cities would relax mortgage policies in a bid to shore up the real-estate sector. It was the latest in a number of policy-easing initiatives from Beijing in the last few days, and they seem to have helped improve sentiment — for now at least.
"There had been concern that the support offered by authorities so far wouldn't buoy sentiment, but it appears to be slowly trickling through, reviving hopes that the Chinese economy may turn a corner, especially with fresh measures announced last week to ease borrowing rules and offer more tax incentives to homebuyers and investors," said Susannah Streeter, head of money and markets at Hargreaves Lansdown.
There was also better news on property giant Country Garden Holdings 2007, -12.30%, whose stock jumped nearly 15% after revealing over the weekend that it had won creditor approval to restructure a near-$550 billion bond that had been due to mature on Saturday.
Consequently, on Monday, the Hang Seng Mainland Property Index jumped 8.2%, though remains down 71% over the past five years. The Shanghai Composite Index CN:SHCOMP rose 1.4% and Hong Kong's Hang Seng Index HK:HSI added 2.5%.