Sports betting continues to expand across the U.S., setting up a potentially recording-breaking 2023 for the most wagered-on sport in America: football.
According to an American Gaming Association survey, 73.5 million American adults plan to bet on an NFL game this season.
What's more, 37% of all NFL fans expect to place a bet on an NFL game this season, the AGA told MarketWatch.
The 73.5 million number comes from an online survey conducted by Morning Consult, on behalf of the American Gaming Association, between August 29 and 31. It got responses from 2,200 American adults, and the data were weighted to approximate a target sample of adults based on age, educational attainment, gender, race, and region, according to the AGA, which represents commercial and tribal casino operators, U.S.-licensed gaming suppliers, financial institutions and other key stakeholders in the gaming industry..
Before the 2022 season began, a similar survey found that 46 million people planned to bet on the NFL last season. One major reason for the year-over-year increase in wagering is that more states now offer legal sports betting.
As of September 2023, 35 U.S. states, plus Washington, D.C., offer some form of legalized sports betting, compared to this time last year when just 31 states, plus Washington, D.C., offered legal wagering, and in 2021 when 22 states did so.
That number could have been higher if California, the nation's most populous state, voted to legalize sporting betting through a now-failed proposed ballot measure last fall.
FanDuel CCO Mike Raffensperger told Yahoo Finance in a story published on Thursday that "this will be the biggest NFL season for sports betting operators around the United States, bar none."
"We are very excited at FanDuel. This is kind of Christmas, New Year's, Fourth of July all wrapped into one" Raffensperger added. "There really is no week in the entire calendar year in terms of getting new customer trial onto a sportbook. There's nothing quite like NFL kickoff."
See also: Want to watch every NFL game without cable this season? Here's how much it will cost you.
Since the Supreme Court struck down the Professional and Amateur Sports Protection Act (PASPA) in 2018, it's been up to individual states to create sports betting legislation, and not the federal government.
The NFL kicks off its regular season with a Thursday Night Football matchup between the defending champions Kansas City Chiefs and against the Detroit Lions. As of Thursday afternoon, the Chiefs are 4.5 point favorites over the Lions.
NFL bettors have a clear favorite team this season: the Cincinnati Bengals. The Bengals are the most-wagered-on NFL team to win this year's Super Bowl on DraftKings in terms of total handle, aka the total money wagered, prior to Thursday's opening night.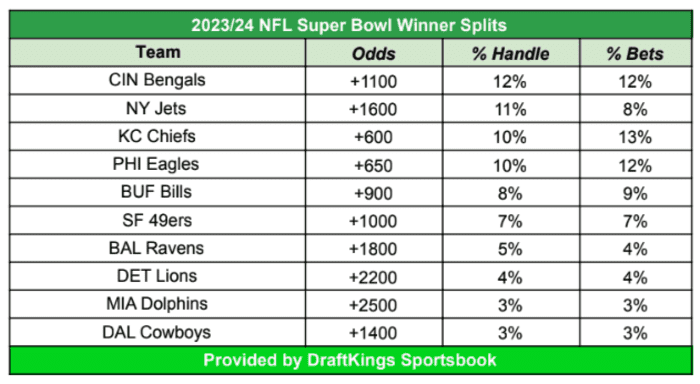 The past 12 months have been boom or bust for many sports betting stocks. Over that time, shares of DraftKings are up 81.37%, shares of Penn Entertainment PENN, -1.21% are down 31.2%, shares of MGM MGM, -0.16% are up 27.42% and shares of Caesars Entertainment CZR, -0.69% are up 15.75%.
The Roundhill Sports Betting & iGaming ETF BETZ, a tier-weighted index of global sports-betting & iGaming companies, is up 16.68% over the past 12 months, compared with the S&P 500 SPX,   which is up 11.12% over that same period.
Read on: Disney-Spectrum feud heats up as ESPN goes dark for college football and U.S. Open. Could the NFL be next?