Tom Brady is taking his seven Super Bowl rings to the air.
The former NFL quarterback, who many fans think is the greatest player ever, is joining Delta Air Lines DAL, -1.39%Inc. as a long-term strategic adviser.
"I am grateful to be joining the Delta family, a company I have loved and respected for years," Brady said in a press release. "Growing up with a mother as a flight attendant, I have always admired the people that make seamless air transportation possible. Throughout my career, my teammates and I flew Delta countless times, spending hours traveling for some of the most important games of our lives, even celebrating Super Bowl wins on the plane. Those championship teams were built off of great leadership and a commitment to excellence, and Delta certainly shares those qualities. Now, alongside Ed (Bastian) and the Delta team, I look forward to playing my part to continue the company's success."
See also: Disney-Spectrum feud heats up as ESPN goes dark for college football and U.S. Open. Could the NFL be next?
As a long-term strategic advisor, Delta said Brady will focus on three initiatives for the company, including the teamwork of employee training, marketing and customer engagement, and community impact where employees live and work, the release said.
Brady retired from the NFL earlier this year, and this upcoming football season will be the league's first one without Brady since 2000.
The former Patriots and Buccaneers quarterback has made hundreds of millions since he joined the NFL. Brady made about $332 million playing quarterback over 23 seasons, the highest career earnings of any football player in history, just ahead of Aaron Rodgers and Matthew Stafford.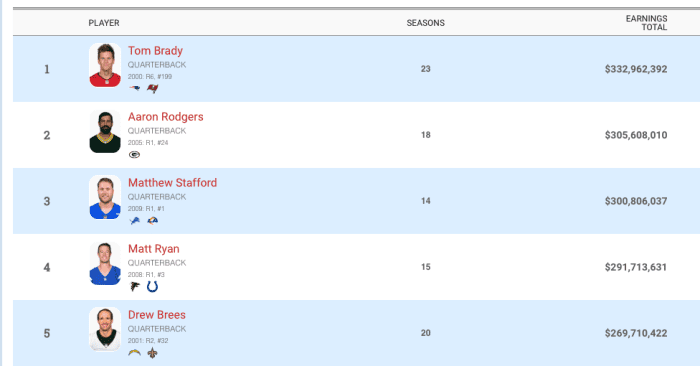 In addition to his on-field earnings, Brady's business deals have ballooned his net worth past the half-billion mark. Over his 23 seasons, Brady has earned at least $180 million from endorsements, licensing, appearances and memorabilia, according to estimates from Sportico, putting his net worth around $512 million when combined with his football income.
Some of Brady's most lucrative endorsement deals are with Under Armour Inc. UAA, -2.68%, Ugg and Upper Deck. He also launched an apparel company called Brady Brand, a fitness company called TB12 and the NFT platform Autograph. 
But not all of Brady's financial moves have been so successful. According to reporting from the New York Post and Forbes that analyzed court documents, Brady owned 1.1 million shares of the now-bankrupt cryptocurrency exchange FTX that had been valued at roughly $45 million. FTX's bankruptcy proceedings are ongoing, and changes to Brady's net worth as it relates to his FTX investment have not yet been calculated.
It's unclear whether Brady will receive anything for his FTX shares, but it seems unlikely. As the SEC has noted, when it comes to bankruptcy, stockholders "are last in line to be repaid if the company fails."
It should also be noted that total wealth analysis is not an exact science and cannot account for every single asset and liability an individual has.
Brady also has a lucrative contract with Fox Sports to announce NFL games after his playing career that is a 10-year deal worth up to $375 million, the largest in sportscasting history. His time as an announcer has not yet started as the former quarterback has decided to take a year off from the game in 2023.
"I was very blessed to play for as long as I did, and I loved it," Brady said on his Let's Go podcast that was published on Monday. "Now I get to see other guys do it, and I also get to see football from a different perspective. I'll be on Fox next year, so I have a chance to really sit back and watch and learn a different career."
Read on: Want to watch every NFL game without cable this season? Here's how much it will cost you.