Are you ready for some football? Well, if you want to watch every single game this season, then be ready to shell out some serious cash across several different networks and streaming platforms — especially you Spectrum subscribers.
In fact, amid the "carriage dispute" between Walt Disney Co. DIS, -0.51% and Charter Communications CHTR, -0.71% — which saw Charter's Spectrum cable network customers suddenly lose ESPN, ABC and other Disney channels after they were pulled from Charter's cable service — Disney has suggested that upset viewers subscribe to Hulu + Live TV, instead.
It should be noted that Disney owns a majority stake in Hulu.
Also see: Charter vs. Disney: Is this the end of the bundle as we know it?
But of course a lot of people cut the cord even before the Spectrum/ESPN dispute, and are looking for new ways to watch football games as the new National Football League season kicks off on Thursday. They're also looking to find out how much it will cost them.
Brace yourselves: today's football fans are going to need access to six different streaming platforms, which can run $1,600 or more for the year.
"Fans are going to need access to six different services, which can run $1,600 or more for the year."
How did we get here? Well, the NFL is by far the most popular sport in America. Even regular season NFL games routinely get more viewers than the biggest games of the year for other major sports, like basketball's NBA Finals and Major League Baseball's World Series. And they don't just beat the viewership of other sports; NFL games were the first, second and third top-rated shows among adults in 2022, period. 
So the league has cashed in on its popularity among TV viewers, which means that football fans are going to have to pay up and do some extra legwork if they want to watch most of these games. Just a decade ago, NFL games were only shown on four cable TV networks. But since then, the NFL has sold off rights to certain games to additional media and streaming brands. In the process, the league now makes roughly $10 billion a year from TV deals, compared with about $3 billion in 2010.
The NFL knew its sport was a hot commodity to broadcast. And with the rise of streaming, the NFL realized it could sell its product to those traditional cable companies and streaming brands. This has led to broadcast bidding wars among cable companies and streaming companies for the rights to games, which has been an advantageous position for the NFL and its owners — but makes things trickier for fans just trying to tune into the games.
"There is no doubt that all sports leagues are navigating a complicated media environment that's a lot different than simply dividing up its games between the (then) Big 3 networks in the 1970s and 80s," Victor Matheson, economics professor at the College of the Holy Cross, told MarketWatch.
The increase in TV-rights money obtained by the NFL has also led to bigger revenue for teams and bigger team valuations. For example, the Denver Broncos recently were purchased for $4.6 billion by Walmart WMT, +1.24% heir Rob Walton — the previous owner Pat Bowlen paid $78 million for the team in 1984 — and Josh Harris purchased the Washington Commanders for a North American sports record of $6.05 billion this summer from Dan Snyder, who bought the franchise for $800 million in 1999.
So what does all this mean for NFL fans?
It'll cost over $1,600 to stream every single NFL game
Wherever you live in the U.S., you can watch your local team most weeks if you have cable, or a cable-substitute service like the Google-owned GOOGL, +0.59% YouTubeTV or FuboTV FUBO, +13.75%. And for most fans — plus perhaps a few hours of the massively popular NFL RedZone channel for a fantasy-football-centric whip-around simulcast — that's probably enough football.
But for the die-hard fans who want to watch every single game played across the NFL this season, MarketWatch has crunched the numbers to let you know how much that will cost.
The total cost for a cord-cutting football fan to stream all 343 NFL games this season is about $1,600 — that includes six streaming services, as well as five username and password combinations in total.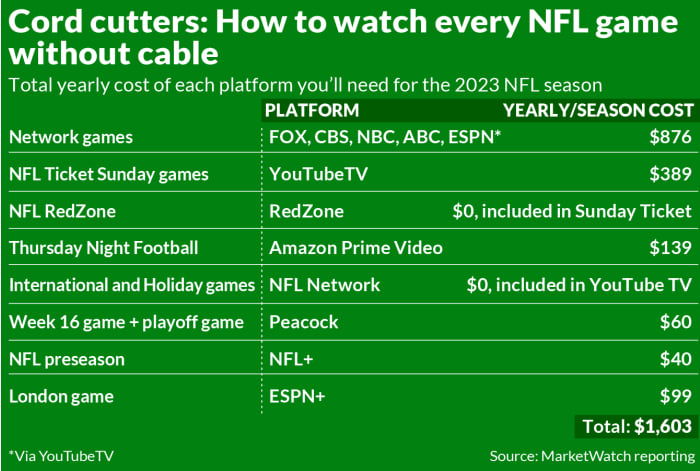 And keep in mind that streaming costs in this story don't include the price of internet service, which of course is necessary to stream games for cord cutters. The average price Americans paid for internet service in 2022 was $64 a month, according to a study by OpenVault, so you can also tack that onto the grand total.
Granted, because many NFL games this season will be on traditional broadcast channels like FOX FOX, -1.83% and CBS, people can choose to watch them through a traditional cable provider, too — although this has become more complicated for several million cable subscribers recently.
As noted above, Disney and Spectrum recently hit an impasse on contract fees, resulting in all channels operated by Disney Entertainment including ESPN, ESPN2, SEC Network, ACC Network and ESPNU to be blacked out for Spectrum's over 14 million cable customers. This would mean, for now, that NFL fans who have Spectrum cable won't be able to watch Monday Night Football until the issue is resolved.
Read more: Disney-Spectrum feud heats up as ESPN goes dark for college football and U.S. Open. Could the NFL be next?
The Ratings Game: ESPN's 'melting iceberg' is yet another challenge for Disney, analyst says
Matheson said that while the price tag to watch NFL games on TV may give some people sticker shock, he thinks that many fans still benefit overall.
"As far as consumers go, modern technology and the rise of streaming has given fans access to essentially any sport on the planet on demand from anywhere, but it has provided one more avenue for the leagues to separate fans from their money," Matheson said. "That being said, it's hard to argue that the fans of yesteryear, sitting on their couch with full wallets but forced to watch a matchup between the woeful Broncos and Raiders, were happier than ones today with a lighter wallet but watching their favorite team (or their top fantasy players)."
But despite this increasingly high price tag, millions of people have been willing to pay more for NFL games over the years, whether they needed cable, a satellite dish or a new streaming platform. Then the NFL Sunday Ticket changed how people watched pro football games beginning in 1994, because it allowed fans to pick which games to watch on Sunday afternoons instead of being subject to whatever local team was on TV. At the time, Sunday Ticket was only available to DirecTV cable subscribers, and if you wanted to watch different games than the networks were showing, then you would have to pay extra. Now, Sunday Ticket gives access to all games on CBS or FOX on Sunday afternoons.
Take Kalli Mariakis, 41, who lives in Biloxi, Miss. and is a die-hard Buffalo Bills fan. She has been paying for the NFL Sunday Ticket for the last 15 years, which gives access to all games on CBS or FOX on Sunday afternoons. She plans to get the package again for this season.
Mariakis told MarketWatch that she considers the $300 NFL Sunday Ticket price "very fair," and said she'll end up paying a bit less this year with a YouTubeTV subscription than she was shelling out with DirecTV last year. She also appreciates that YouTube lets people foot the bill with a buy now, pay later option.
"I do like the option now that they let you split it up in four payments, instead of having to pay it all at once. That gave me the flexibility to add it," Mariakis said. "Before they did that, I was unsure if I was even going to purchase it."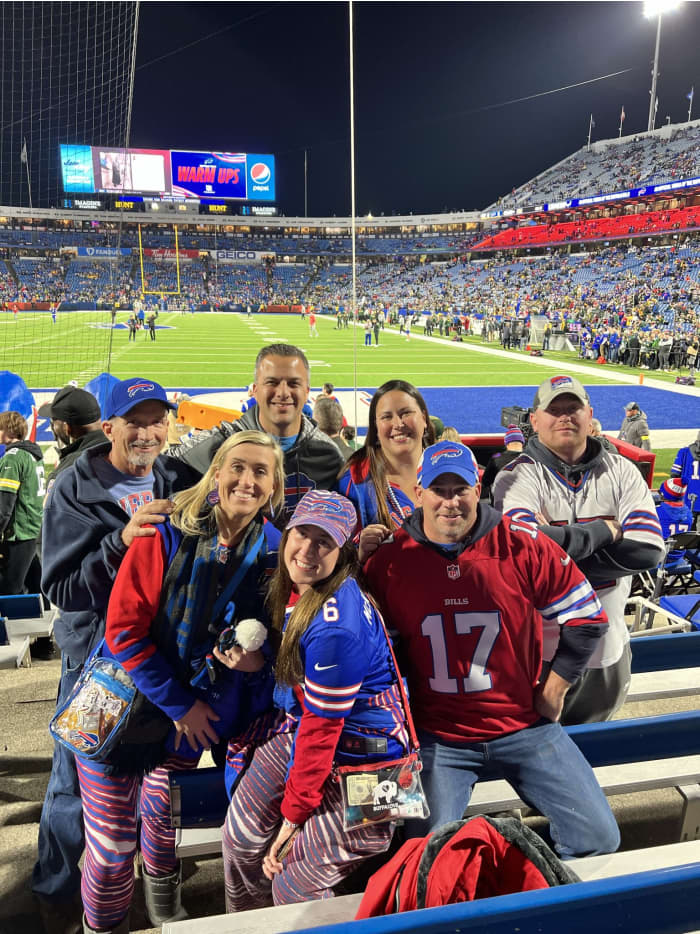 Calicia Landry, 51, who lives in Clermont, Fla. has been a Dolphins fan her entire life. Her parents even had season tickets during the famed 1972 season, when the Dolphins went undefeated, which was the only time that has happened in NFL history.
"I was hoping the price would be a little bit lower, but you know, everything is high now," Landry told MarketWatch, while adding she already bought Sunday Ticket for the upcoming season. "I guess $300 is better than $600."
Even though Landry lives in Florida, she needs Sunday Ticket to watch her local team in Miami. Why? Because local TV tends to favor the closer home team — the Jacksonville Jaguars — over the Miami Dolphins. So Landry needs to pay for the Sunday Ticket to catch her Dolphins games. 
Are you good at Excel?
But price isn't the only obstacle for NFL fans. They also have to be organized enough to keep track of which games are playing on which channels and platforms, along with when, as well as keeping tabs on how to sign in.
""I have an excel spreadsheet that I keep all my usernames and passwords on…I've got probably three or four streaming services that I've purchased on top of now having YouTubeTV. [It's] very tedious.""
A cord cutter who plans to stream all NFL games this season will need a total of five username-and-password combinations for YouTubeTV with Sunday Ticket, Prime Video, Peacock, NFL+ and ESPN+, and users will also need to download each individual app on their smart TV devices at home.
"I have an excel spreadsheet that I keep all my usernames and passwords on," Landry said. "You have to remember what you have. I have a couple of streaming services. I have Disney, I have Discovery, I don't even know what I have. I've got probably three or four streaming services that I've purchased on top of now having YouTubeTV."
Mariakis added that having all these streaming accounts just for NFL games is "very tedious."
For fans interested in getting the subscriptions required to watch NFL games this season, there are some deals to help chip away at the cost. These include:
YouTubeTV: $24 off your first three months
Sunday NFL Ticket on YouTubeTV: $50 off, ends Sept. 30
Extremely savvy streamers can also game the system by opting to subscribe and unsubscribe during times when platforms like Peacock or ESPN+ are broadcasting games to save money, as well. And people who opt for a cable package over streaming often look to bundle their internet and cable plans together, which could lead to additional savings.
There are also several student discounts available for NFL streaming platforms in 2023, including $70 off annually for Amazon AMZN, +1.84% Prime, $191 off annually for Sunday Ticket and $4 off a month for Peacock.
It's a lot to keep track of. 
In fact, when Landry learned that there will be multiple exclusive games on Peacock and ESPN+ for the first time this season – two streaming services that she wasn't sure she was subscribed to — she had a two-word response.
"Oh, Jesus."