Another big corporate borrowing blitz to kick off September has gotten under way, but this one isn't looking like the rest.
Instead, the flurry of new bond issues shows how the Federal Reserve's higher interest rate environment has begun to seep in a year later, by making major companies far more hesitant to tap credit for longer stretches.
"The markets are becoming more accepting for higher rates for longer," said Tom Murphy, head of U.S. investment-grade credit at Columbia Threadneedle, in a call Thursday. But that isn't necessarily what big companies want.
With roughly less than 10% of the week's bond transactions structured as debt that matures in 10-years or longer, it suggests that issuers want higher interest to go away. "It could be hope," Murphy said of corporate executives counting on Fed interest rate cuts. "But there is an unwillingness to accept locking in yield for a longer time."
U.S. companies unleashed over $50 billion of new bond supply since Labor Day and are looking to hit the market with up to $6.5 billion in additional issuance Thursday, according to a tally from Informa Global Markets.
The two days after Labor Day already saw $52.6 billion of new investment-grade corporate bonds bought up by investors, according to BofA Global, marking the third-heaviest supply over the same period in more than a decade.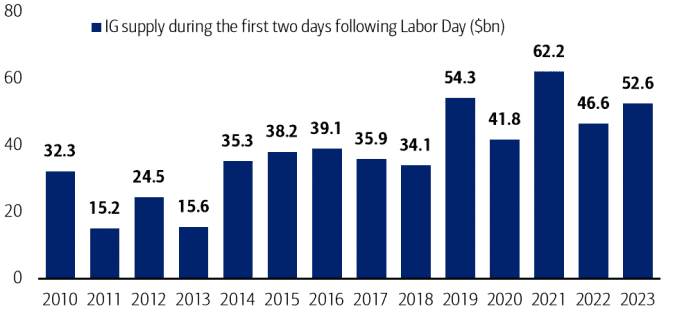 The start of the week also saw the second busiest two-day supply of 2023, behind the $62.2 billion that priced to kick off January, according to BofA Global.
The 10-year Treasury yield BX:TMUBMUSD10Y, which is used as a benchmark to price corporate bonds, mortgages and more, has been marching near to the highs of 2023 this week. It was easing back a bit on Thursday to 4.27%, according to FactSet.
Corporate bonds are priced at a spread, or premium, above the risk-free Treasury rate to help compensate investors for credit risks. Bond yields are a reflection of benchmark rates, plus a spread. The ICE BofA US Corporate Bond Index's yield was near 5.85% at last check, the highest since 2009 except for a brief patch in March when several regional banks collapsed, sparking concerns of a broader banking crisis.
See: Corporate bonds will be better investments than stocks for the foreseeable future, says Howard Marks 
U.S. stocks were mostly heading for a third straight day of losses on Thursday, except for the Dow Jones Industrial Average DJIA, which was up 0.3%, while the S&P 500 index SPX was 0.3% lower and the Nasdaq Composite Index COMP was off 1%, according to FactSet.